A few years ago, my wife was on a work assignment in which she had to "live" in Germany for approx 4 months. Her company was nice enough to fly me over there for the holidays. We got to do some traveling around Europe and spent Christmas in Paris. I knew of a Retro Toy store in Paris called
Lulu-Berlu
. Reg, one of the owners is a member of the
Grayskull Museum
which happens to be one of my favorite message boards. I knew that one of the places that we needed to visit was Lulu-Berlu. I could not walk around Paris without stopping in and checking out this goldmine of a toy store.
We found Lulu-Berlu on the day after Christmas but they were closed. We returned the following day to find them open for business and boy was I excited. This place had an example of just about every retro toy that you can remember from your childhood. She won't admit it but even my wife was excited about it. I got to introduce myself to Reg and we chatted for a bit. We looked around and most of my time was spent in the Masters of the Universe section. They had packaged and loose toys but I was mostly interested in the international variants.
I wanted some French figures. When in France........Reg said that he had some cool stuff in the "back room". He came back with a French He-man figure as well as a French Tri Klops. Both complete. He explained to me that the French Tri Klops was special because the eye orientation on his helmet differed from all other country variants. He also has an all green sword rather than the green/black configuration. These are variations that I was unaware of and made the figures that much cooler to me.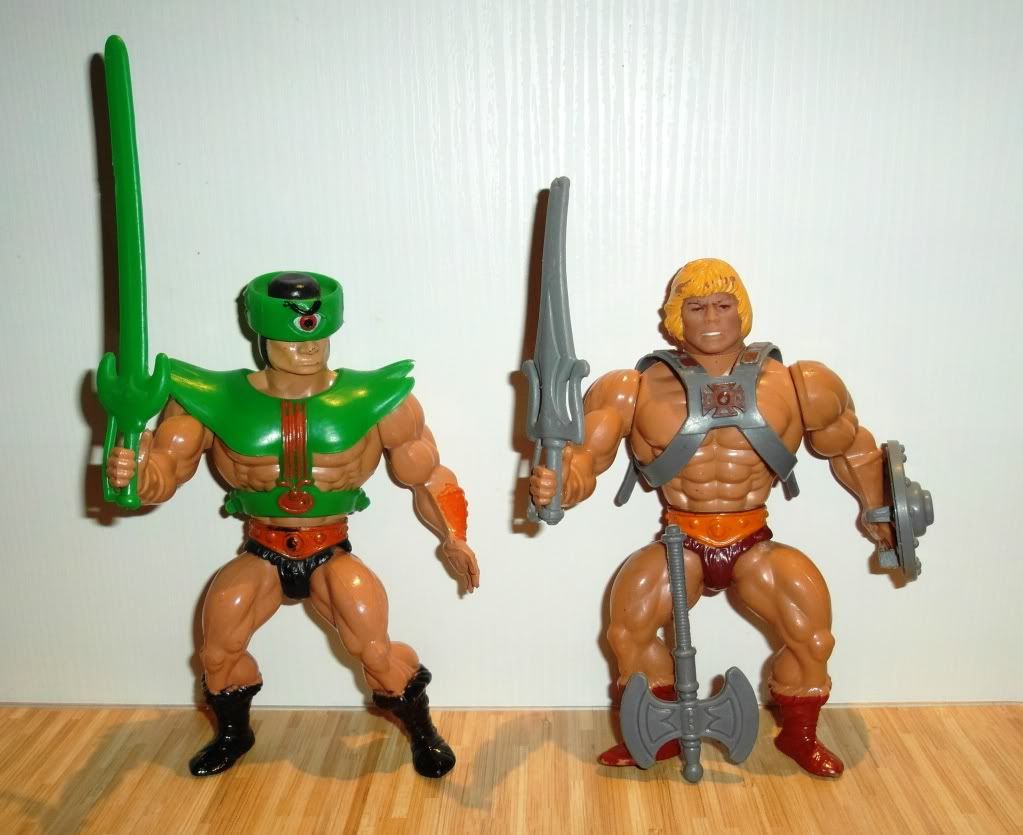 These figures remain in my collection and they are special to me because they are great souvenirs from a wonderful, once in a lifetime trip.
I urge anyone in the area to pay a visit to this store. The owners are passionate about retro toys and they are willing to chat and educate you on all things vintage toys. Here are a couple of videos that I found on the web that gives a pretty good idea of what the shop offers. (neither video is mine nor can I take any credit for filming them)
Please feel free to offer any recommendations for cool places to find vintage toys and thanks for reading.